Heating and Cooling Duct Cleaning in Melbourne
In Melbourne's ever-changing climate, maintaining a comfortable indoor environment is essential. Over time, dust, dirt, allergens, and mould can accumulate in heating and cooling ducts, which affects air quality and HVAC systems.
Hiring heating and cooling duct cleaning in Melbourne will address these problems and save you from costly ducted heating unit replacement prices. If you are searching for an experienced provider in this industry, Hilux Cleaning is the one you can trust.
With our ducted heating and cooling in Melbourne, you can breathe easy and maintain a comfortable, energy-efficient home environment year-round. Say goodbye to air quality concerns and rising utility costs and hello to a healthier, happier home.
Leading Solutions for Ducted Heating and Cooling in Melbourne
Investing in your home's heating or cooling system and keeping you and your family comfortable is essential.So choosing the best service provider for ducted heating and cooling in Melbourne.
Our dedicated team in Melbourne takes pride in providing a comprehensive solution for all heating and cooling duct cleaning requirements, including supply, installation, service, repair, and duct cleaning.
With a focus on meeting the needs of our clients, we ensure optimal temperature and clean air for ultimate relaxation. Our experienced technicians have been committed to improving air quality and restoring duct performance for years.
We customise your climate control solution to the particular needs of your house or place of business. Call us on (03) 4240 3531 to learn more about our industry-leading ducted heating and cooling service in Melbourne.
Steps Involved in Our Heating and Cooling Duct Cleaning Procedure
Visual Inspection: This allows the technician to check your ducts. To see if it's filled with contamination, dust, debris, holes, kinks, and other signs of damage.
Vacuum: Your technician will have a unique vacuum device designed to absorb all the particles of dirt and debris. They will link this device to your ductwork function and press the negative pressure across the unit.
Dust Removal: When your system is not working, an HVAC technician will clean the pipes at the same time. Well-known experts use rotating brushes, air compressors, and vacuum cleaners. This ensures that as much dust is removed as possible.
Whole system Cleaning: Finally, the technician cleans the whole system. While many HVAC technicians will continue to clean other items in the unit, such as piping cars, coils, and a drain pan. The technician can also change the system air filter for good measure.
Ducted Heating and Cooling in Melbourne Has Numerous Potential Benefits
Better air quality: Clean ductwork leads to the spread of a few airborne diseases and other pollutants. As a result, you can breathe and prevent side effects related to allergies, such as coughing, sneezing, or inflammation.
Increased power: When the A/C unit is contaminated, it will use more energy. By cleaning your pipes occasionally, you will ensure that your system continues running – which means a monthly lower energy bill.
Extended life of your unit: Collecting dust and debris in your unit coils can lead to premature system failure. Cleaning the hole that removes such clutter extends the active life of your system.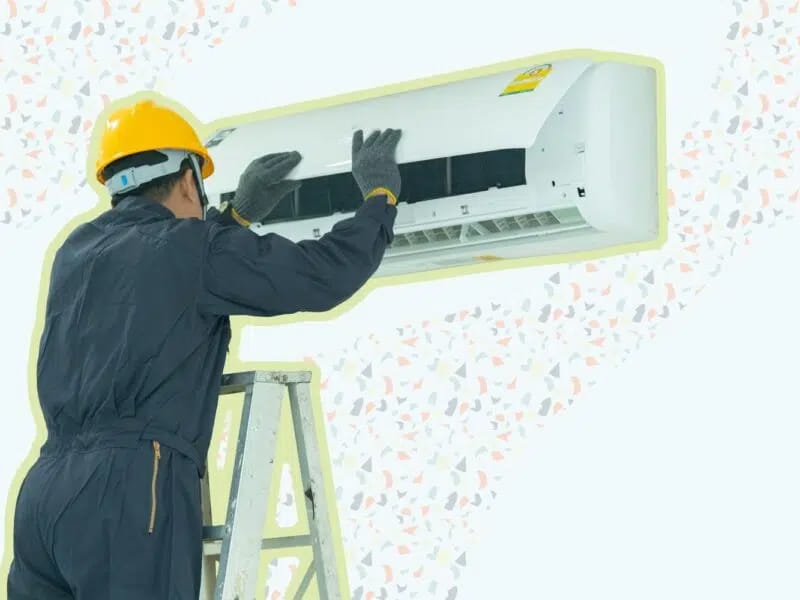 Beat The Heat and Cold with the Following Range of Techniques
At Hilux Cleaning, we are your trusted experts in ducted heating and cooling installation services in Melbourne. Our team is available for residential and commercial installation for a range of different heating and cooling systems including:
Evaporative Cooling
Evaporative cooling is the cheapest and most effective way to stay cool in the summer. It uses water to cool the outdoor air, producing a cooling breeze indoors. They are designed to work well in places with drier climates, like Melbourne.
Ducted Gas Heating
The ducted gas heating is a fantastic method for staying warm throughout the chilly Melbourne days. The most effective heating solution, this ducted system, can heat specific rooms while leaving the others unheated, thanks to its capacity to create zones. We provide low ducted heating unit replacement prices in Melbourne.
Split System Air Conditioning
Installing a split system air conditioner is the ideal approach to achieve a cosy, tingling feeling in the winter and biting cold in the summer. These air conditioners are reverse-cycle machines that can heat and chill. They are ideal for smaller spaces like offices or private rooms.
Ducted Reverse Cycle Air Conditioning
The ideal approach to cool your entire house with one system is with a ducted reverse cycle system. Unlike evaporative and ducted heaters, this system can heat and cool with a single unit—an excellent choice for houses with small roof spaces.
Add On Cooling
A refrigerated unit called add-on cooling connects to your existing heater to produce chilly air. Add-on cooling uses the same ducts and vents as the heater to have chilled cold air, much like a ducted reverse cycle air conditioner. The additional cooling unit is overlooked when simply using the heating.
Electrical
Installing power sockets, switches, lighting, ceiling fans, and appliances are just a few examples of electrical work. It also includes wiring up dwellings, upgrading electrical meter boxes, installing, and testing smoke alarms, and resolving emergency faults. Moreover, safety assessments must be undertaken every two years on rental homes. Hilux Cleaning offers the best Electric ducted heating and cooling Melbourne repair and replacement services.
Hot Water Systems
There are various forms of hot water systems, including solar-heated hot water, continuous flow, gas hot water storage, and electric hot water storage. While a storage system maintains heated litres of water in storage, ready to supply when needed, a continuous flow heats the water as required.
We Are the One-Stop Solution for All Your Ducted Heating and Cooling Service Needs
We offer superior heating and cooling services in Melbourne that meet your needs and align with your budget. Ducted heating replacement Melbourne follows a client philosophy. You won't find our convenience, affordability, and service quality anywhere else.
All of our installation teams have complete training, credentials, and insurance.
We take every safety measure to ensure your system operates efficiently and safely.
To maintain the optimal performance of your heating system, our service technicians get specialised training.
Our staff members are always willing to help you with scheduling, queries, and other issues.
Our ducted heating and cooling systems prices are affordable, truthful, and without any hidden cost.
As the top provider of ducted heating and cooling service in Melbourne, we can fit and install high-quality units that will raise the temperature in your space.
Our top priority – installing and maintaining your new ducted heating or evaporative cooling systems. Your new system will offer the indoor comfort you require, whether it is a household or commercial building.
Ducted Heating and Cooling Services and Replacements in Melbourne
At Hilux Cleaning, we are renowned for our efficient and reliable services in ducted heating vent replacement and ducted heating replacement in Melbourne. Our commitment to quality and customer satisfaction has made us a trusted name in the industry.
We offer:
Comprehensive ducted heating vent replacement services, ensuring your system is operating at peak efficiency. You can trust us for expert ducted heating replacement in Melbourne, upgrading outdated systems to improve energy efficiency and comfort.
Competitive ducted heating unit replacement prices in Melbourne, providing value without compromising on quality.
Our team of skilled technicians is well-versed in the latest techniques and technologies. We handle every project with utmost professionalism, from minor repairs to major replacements, ensuring minimal disruption to your daily routines.
With Hilux Cleaning, you can rest assured that you're receiving leading services at some of the most competitive ducted heating unit replacement prices in Melbourne. Trust us with your heating and cooling needs and experience the difference that expertise and dedication can make.
What Makes Our Professionals Stand Out for Heating and Cooling Duct Cleaning in Melbourne?
Following are the reasons why you should hire our experts for ducted heating and cooling services in Melbourne.
First, our professionals can access the latest equipment and boast up-to-date training. This enables them to perform their tasks without creating any problems. Whether you want to improve indoor air quality and stop allergies or reduce energy costs caused by inefficiency.
They can improve indoor air quality using high-quality extraction tools while removing dirt, dust, allergies, germs, moulds, dead skin cells, and other air pollutants. This reduces the severity of allergies and other respiratory conditions.
Ducts filled with various particles can increase fire risk and other safety hazards. Our professional duct cleaners are trained and equipped to remove these objects.
Why Wait? Call the Leaders in Ducted Heating and Cooling Services in Melbourne.
If your heating and cooling ducts have been neglected for a while, don't delay. Contact us immediately at (03) 4240 3531 or email us at [email protected], and we will provide you with top-notch cleaning and ducted heating replacement in Melbourne.
Blocked ducts and vents can severely impact the efficiency of your heating or cooling system when left unattended for extended periods. Running your system without proper cleaning and maintenance can result in inconsistent temperatures inside your home and higher energy bills. What's worse, the accumulation of contaminants in the ducts can even pose health risks to your family. This is why periodic professional duct cleaning is essential.
Hilux Cleaning is the expert in heating and cooling duct cleaning. We can be considered indoor air quality specialists. Our specialists can perform the job flawlessly, saving energy and improving air quality in your home. We customise our heating and cooling service in Melbourne to meet your needs.
In addition to our top-notch ducted heating and cooling cleaning services, we also offer competitive ducted heating unit replacement prices in Melbourne, ensuring your complete climate control needs are met with affordability and excellence.
Experience the Benefits of Choosing Our Ducted Heating and Cooling Service
The correct heating system for your house or office can make all the difference. The ideal heating system should meet the home's heating requirements, be energy efficient, and reduce heating costs to a minimum. Ducted heating and cooling service in Melbourne should be at the top of your list if you want to replace your home's heating or cooling system.
Modern ducted heating and cooling Melbourne Western suburbs systems offer several advantages. They can be fitted to your home's individual needs. Below, we will review some significant benefits of using our ducted heating and cooling services.
Keeping filters clean ensures that undesirable particles like dust and dirt are safely removed from the air.
You can continue your routine work while we handle service, maintenance, and warranty repairs. No need to worry at all!
Our professional team will never abandon you. They are very engaging and responsive.
We take great satisfaction in how our cheerful, friendly, and dependable staff sets the tone from when you get in touch.
Our contemporaries are envious of our well-known high standards of professionalism and customer service.
The system is economical and environmentally beneficial.
Breathe more comfortably and efficiently without interrupting the rhythm.
To improve health, clear the air of mould and allergies.
Remove terrible odours, poor odours, and harmful air.
Enhance Your Ducted Heating System with Vent Replacement
Is your ducted heating system not performing at its best? It might be time to consider ducted heating vent replacement. At Hilux Cleaning, we understand the critical role that vents play in the overall efficiency and effectiveness of your heating and cooling system.
Over time, ducted heating vents can become worn, damaged, or clogged. This leads to reduced airflow, decreased efficiency, and poor air quality in your home. Ducted heating vent replacement improves efficiency, ensures even temperature distribution, and enhances air quality.
Contact us for a professional assessment and ducted heating vent replacement to improve efficiency and air quality in your home.
Why Wait? Call the Leaders in Heating Duct Cleaning Services in Melbourne!
Don't hesitate to reach out to us on (03) 4240 3531 for top-notch duct cleaning and repair services in Melbourne. When it comes to ducted heating replacement in Melbourne, trust in our expertise to seamlessly integrate and optimise your new system. For inquiries, you can also contact us via email at [email protected]. Our round-the-clock services are here to cater to all your needs