HVAC Duct Cleaning Doncaster
HVAC duct cleaning is our major business at Hilux Duct Cleaning. In Doncaster, we provide same-day HVAC duct cleaning services.
Through our HVAC duct cleaning system, we've been offering expert HVAC sanitization and deodorization to local HVAC systems for many years. HVAC equipment, such as air conditioners and heaters, may make your home more pleasant for you and your family.
Unfortunately, dangerous substances may be found in HVAC systems, which can create health concerns for not just the HVAC system but also the building's inhabitants. Sanitizing and deodorizing HVAC systems is an important aspect of normal HVAC maintenance. 
HVAC duct cleaning uses the most up-to-date equipment to minimize impurities in HVAC air conditioning, heating, cooling, and ventilation systems, giving you and your family peace of mind. Unclean HVAC systems may lead to a range of health issues, including allergic responses and asthma.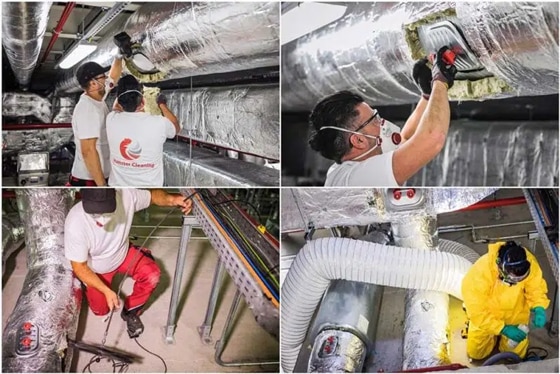 Cleaning of Residential Ducts
All Cranbourne areas are served by our heater repair services. Gas ducted heaters are usually dependable, but they do occasionally fail. Our expertise in fixing gas-ducting heaters stems from years of practise. Hilux Duct Cleaning Melbourne has the experience and competence to do the task promptly.
Our crew is knowledgeable on various types of heating systems, including Vulcan and Rinnai. We can also service heaters made by Honeywell, Pyrox, Lennox, Pyrox, or Honeywell. Our technicians have years of expertise with various types of gas ducted heating systems.
Do not wait until your gas heater breaks down to get it fixed. If your heater isn't working properly, you'll likely spend extra on it.
Deodorizing and sanitizing treatments are available through our HVAC professionals. We'll clean HVAC systems completely and make sure they're safe to use without damaging the environment. Deodorizing and sanitizing your HVAC system will enhance airflow, extend the life of your system, and maintain optimal energy efficiency.
We give superior duct cleaning services with emergency duct cleaning services and modernized gear. Professionally skilled, trustworthy, and dependable air duct cleaning services in Doncaster. Air duct cleaning services for residential premises that are quick and efficient.
Years of experience to ensure that the project is done correctly the first time, with no issues. Our pricing is reasonable, competitive, and cost-effective.
Our unique services include- We are experts in delivering HVAC duct cleaning services in Doncaster.
With all of our HVAC duct cleaning services, we guarantee HVAC sanitization and deodorization. To obtain a free quotation, give us a call right now.
Heating and Cooling Duct Cleaning & Repair
Ceiling and Floor Duct cleaning & Repair
Competitive Pricing
Duct Cleaning Experts
24×7 Availablity
Same Day Bookings
Affordable and Flexible Services
Serving Melbourne-Wide
TESTIMONIALS
Professionalism
'Wow' is all we can say. Hilux really turned our property around after we commissioned him for duct cleaning services. A+ Service Really Happy
Services: Heating system maintenance, Heating system repair, HVAC duct & vent cleaning
Andrew Sexton
Punctuality
Hilux Duct Cleaning offers duct cleaning services at a reasonable price. They clean the ducts with high-tech equipment and a safe solution. They are actual experts and best duct cleaners in melbourne. I've utilized their service three times and am quite pleased with it.  Keep up the good work
Service: HVAC duct & vent cleaning
Allan Smith
Quality
When I switched on my ducted heating system, it gave off a really foul odor. I had it cleaned by three different businesses and was dissatisfied with the results until a friend recommended Hilux Duct Cleaning. They were really responsive and efficient, ensuring that a high level of service was provided.
Service: HVAC duct & vent cleaning
Leo Davis
Contact us today!
Want to Avail Our No Obligation Free Quotes? Contact Us to have a talk with our Ducts Cleaning experts !!!